PAD (Pre-authorized debit) is an easy, secure way to have donations automatically transferred once or twice a month (your choice) directly from your bank account to the church's bank account. There is no cost to the church for donating by PAD and in many cases, no cost to you (check with your bank for details.)
If you would like to begin donating this way, you need to complete a simple, short form and provide your banking info (usually a voided cheque).
• Click the logo below and complete the form, then save it (as a PDF) and email the PDF back to info@westney.ca as an attachment with a photo of your void cheque. Click the image below to access the file....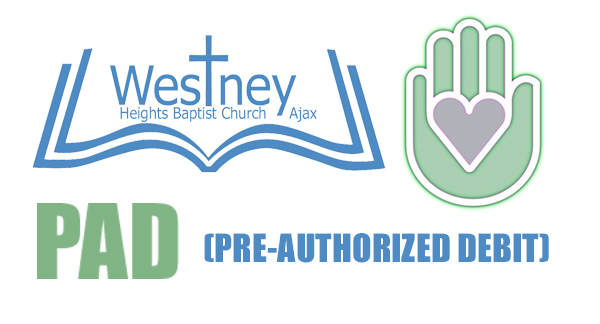 • You can also pick up a copy of the PAD form from the church office or call the office (905-686-7782)and have a form mailed to you.
Thank you for faithfully supporting the vision of Westney Heights Baptist Church.