You may be wondering, during this time when we are not physically meeting at the church, how you can continue to worship God by giving your tithes and offerings.
Here are the 6 secure ways you can give:
1. Cheques may be mailed to Westney Heights Baptist Church
1201 Ravenscroft Rd.
Ajax, ON L1T 4K5
Even though the office will not be open for regular hours, church mail will be picked up daily and deposits will be made as needed.
2. Cheques can be picked up from your house by one of our volunteers, as long as you have NO COVID19 symptoms.
Please call Pastor Don Symons at 905-924-6062 to arrange a time for pick-up.
You may use your regular numbered envelope
If you are not using a WHBC numbered envelope, you may use a plain envelope as long as long as your name and address are clearly marked.
For security and health, we regret that we cannot pick up cash donations.
3. E-transfers are an easy way to donate on-line directly from your bank account. The church does not have to pay any fees for e-Transfers and they are usually free for the donor (check with your bank if you're not sure). Click the logo below for instructions.

4. PAD (Pre-authorized debit) is an easy, secure way to have donations automatically transferred once or twice a month (your choice) directly from your bank account to the church's bank account. There is no cost to the church for donating by PAD and in many cases, no cost to you (check with your bank for details.)If you are already a PAD user, thank you. Your donations will continue as you have arranged.
If you would like to begin donating this way, you need to complete a simple, short form and provide your banking info (usually a voided cheque). Here are 3 ways to securely get and return the form:
• Click the logo below and complete the form, then save it (as a PDF) and email the PDF back to bonnie@westney.ca as an attachment with a photo of your void cheque. Click the image below to access the file....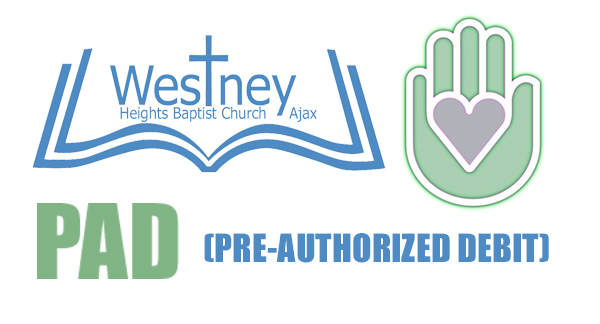 • Email bonnie@westney.ca for a copy of the form which you can print, complete by hand, and return by Canada Post, or have it picked-up by a volunteer (see # 1 & 2 above).
• Call Pastor Don at (905) 924-6062 to have a form delivered. When it is completed it can be picked up by a volunteer.
5. Canada Helps is an on-line option for those people who want to make donations using their credit card. A small fee is deducted from your donation from Canada Helps before it is sent to the church. However, you can reduce the fee to 3.5% if you use the link below instead of going to the Canada Helps website. Click the logo below to donate to Canada Helps.

6. For security and health safety, we regret that we cannot accept cash donations during this time of exceptional circumstances. PLEASE DO NOT MAIL CASH and DO NOT LEAVE CASH IN THE CHURCH MAIL BOX. However, you can always set your cash donation aside somewhere secure in your house and bring it to the church when we can safely meet again in person for regular worship services.
If you have any questions about how you can get your tithe and donations to us, please contact our donor records manager, Bonnie Carter, at bonnie@westney.ca.
Thank you for faithfully supporting the vision of Westney Heghts Baptist Church.